I gotta be honest...every time I head out to a professional event on a racetrack here in the Unites States, its so amazing, wonderful & fan friendly. I have gone to an IRL event recently in the past few years at Homestead Miami Speedway, and everyone in the paddock was so nice - it was almost scary & shocking at the same time. I even got Max Papis, who was running a Grand Am Rolex Series race the night before, to sign a piece of his race car that broke off in an accident.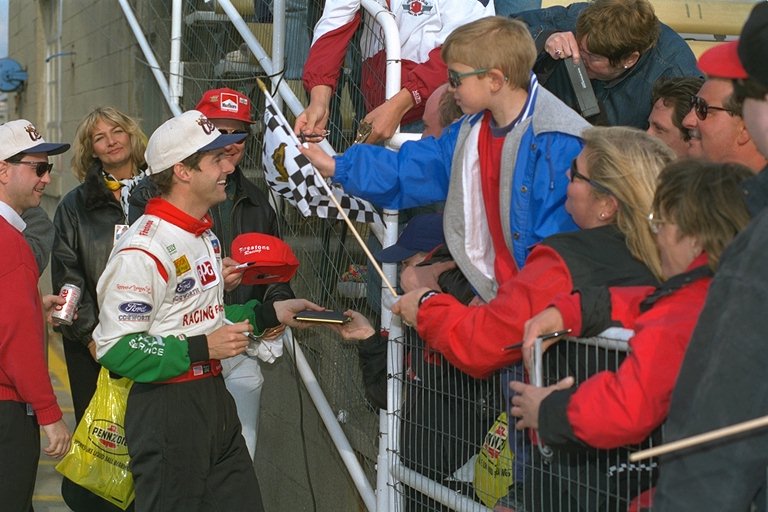 Former Indy Car Series driver Robbie Buhl, signing autographs for kids during the 1996 Indianapolis 500.

But this totally irritates me, on how Formula 1 and their drivers can be. how can anyone still be a fan of drivers like this, I wonder? :
Kimi, I respect you as a driver, and champion, but all she wanted was an autograph most likely for her daughter, and you knocked down her child?, although it was inadvertent, and all you did was keep on walking like nothing happened? World champion or not, you should have some sense of decency for what happened, seeing that kid cry. I've seen drivers here in my part of the world actually go to children's hospitals to bring joy to the faces of kids - Racing for Kids, is a pretty good example. To add to that, some drivers here race for charity events - Tony Stewart, and the Prelude to the Dream event at his racetrack- Eldora Speedway. The driver behind the machine isn't supposed to be a machine all the time. Have a sense of feeling & care, Kimi.
Also, Juan Pablo Montoya, back when he was in F1 for the Williams BMW Team. As much of a fan as I am of Montoya (I've followed him since his days in CART for Target Chip Ganassi Racing to his recent stint in NASCAR for that very team) I gotta disagree with this incident, because he didn't see where he was going, and walked straight into the camera:
My opinion? I doubt that Formula One Management will ever release this type of footage on their broadcasts because they want to keep as many fans in the seats, spending as much money as possible. Bernie Ecclestone - of "Formula One doesn't need America" fame, considering he's nearing his 80's in age, just might have a heart attack on the spot if this ever did get out onto a broadcast. maybe fans overseas might look at the sport a little bit differently.
Photo Courtesy: The Auto Channel
Video Courtesy: You Tube